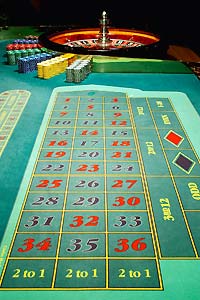 This martingale or rising losing on Paroli is a variant of Paroli.
The principle
The principle of this Rising losing on Paroli is a Paroli of 3 on the simple chance.
After each lost of Paroli (first, second or third term), the basic bet is increased by one unit. With a capital base of 105 units, we will be able to try the "Paroli of 3" 14 times.
Advantages
Climb gradually implemented. We can go up to 14 attempts to get our paroli of 3 leaving a good margin. The capital base is still 105 units.
Limitation
You can also see in the table below that the gains are different depending on which comes the attempt success. But that does not matter with the aim to be a beneficiary.
Example of Rising losing on Paroli :
Attempt N°
Bet
Earning
if success
Losses
if failure
Profits from
the first successful
1
1
8
- 1
+ 7
2
2
16
- 3
+ 13
3
3
24
- 6
+ 18
4
4
32
- 10
+ 22
5
5
40
- 15
+ 25
6
6
48
- 21
+ 27
7
7
56
- 28
+ 28
8
8
64
- 36
+ 28
9
9
72
- 45
+ 27
10
10
80
- 55
+ 25
11
11
88
- 66
+ 22
12
12
96
- 78
+ 18
13
13
104
- 91
+ 13
14
14
112
- 105
+ 7