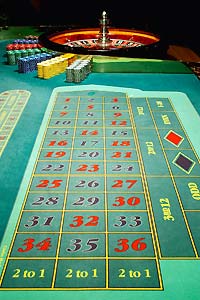 This 7 bowls martingale or 7 bowls rising is also played on simple luck.
The principle
The principle of the 7 bowls martingale is to play 7 times in a row on the same bet on the same simple luck.
The game will always stop when we will be beneficiary.
If after 7 strokes we have a total deficit of 3 units, we will play three units over the next seven balls and so on.
Limitations
A poor series, this 7 Bowls martingale as quickly reaches its limits with a runaway fast updates and reaching too quickly put cap.
Advantages
With this martimgale you are more likely to win to lose. It is therefore a good method of roulette game.
Example of 7 Bowls martingale :
First serie of 7 bowls :
| | | | | |
| --- | --- | --- | --- | --- |
| Game | Result | Bet | Gain | Accumulation |
| Red | Black | 1 | -1 | -1 |
| Red | Black | 1 | -1 | -2 |
| Red | Black | 1 | -1 | -3 |
| Red | Black | 1 | -1 | -4 |
| Red | Red | 1 | +1 | -3 |
| Red | Black | 1 | -1 | -4 |
| Red | Red | 1 | +1 | -3 |
Second serie of 7 bowls :
| | | | | |
| --- | --- | --- | --- | --- |
| Game | Result | Bet | Gain | Accumulation |
| Red | Black | 3 | -3 | -6 |
| Red | Red | 3 | +3 | -3 |
| Red | Red | 3 | +3 | 0 |
| Red | Red | 3 | +3 | +3 |